What do you want?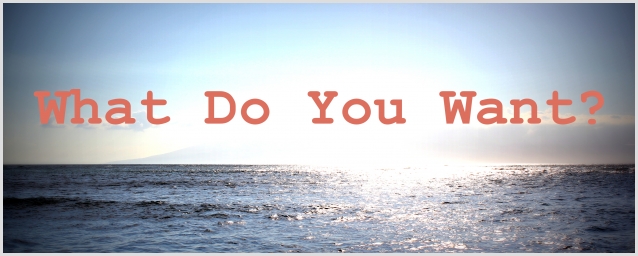 Whenever I begin coaching a new client, I always ask them this question…..
"If ANYTHING could happen in your life over the next year, what would thrill you?
In other words, what changes would you like to see in your life or career?"
Some of them know exactly what they want and can clearly articulate it. However, it's not uncommon to be totally stumped by this question, either!
One of my new clients was totally blank when I asked her what she'd love to see happen over the next year. Sure, she KNEW something needed to change but couldn't figure it out. So, I sent her this list of answers from a survey I gave my clients/readers years ago.
Take a look and see if anything here sparks an idea for YOU.
Here's what people said they MOST wanted to happen within a year.
1. Feel better or healthier
2. I'd love to find a job that I enjoyed and that would be flexible enough for me to take care of things at home.
3. To fall in love
4. A balanced life with goals, I would like to get more pleasure and contentment out of life, take nice trips, have an abundance of spending money, I would love to make NEW friends and have better relationships..
5. New job-career
6. I'd like my life to have more stability and routine in it so the family could function better.
7. Meet the right guy or travel to at least one of the places on my "to see" list.
8. Financial abundance to be a stay-at-home mom while still being able to afford nice things for my home, family vacations, etc.
9. A new man, new home, great job, fitness, routinely out with nature and debt free
10. I would like to have a steady and large income
11. My business would become a success! I would like to have more time to spend with boyfriend and to maintain relationships with family & friends.
12. Find a job as a college advisor OR a job that incorporates photography and creativity, without requiring too much technical skill or stress that in some way involves or benefits children, people living struggling with global poverty or health issues or the environment
13. Reduce my work hours
14. Would love to see my photography career evolve somehow.
15. *Improve & become much more satisfied w/ my own work performance, & more highly regarded by peers & supervisor, thus happier & more proud of my work in these last few years before retirement * Commit so well to a health plan that I become slim & fit & attractive even to myself * Become emotionally ready to want to find a male friend/companion/partner with whom I can regain trust, commitment, happiness, & a satisfying sex life *Declutter & make upgrades to my house w/out losing its "home" feel for my sons or me; get a handle on my paperwork packrat problem; integrate family heirlooms while also updating decor
16. Learn to take great care of myself AND create and maintain excellent standards.
17. Get to goal weight & maintain it, start making money as a writer
18. I could use a little "Umph" in my life right now. Things are good but they could be better. My weight is okay but would be better if I lost 10-15 pounds. My house is presentable but would be better if the basement was organized. My spiritual life is blessed but if I'd Bible read/pray more consistently.....you get the idea. It's not a mess but with a little consistent effort, it could be more.
19. Make a full life transition--make my move to a new city and have a full social life with friends and family to do things with!
20. Earn more money! Buy my first home. Create an ideal living/work situation for my disabled teenager.
21. Get started in a new career, lose weight, get my house under control, find new interesting friend groups that are like minded.
22. 1. Lose six more pounds (already lost 8) 2. Finish decluttering paperwork in my filing cabinet
23. Taking accountability to self as importantly as accountability to others.
24. I am reducing my debt and will have attained most of financial restructuring by end of year. I have strong concerns about spending enough time with my older Mother and my daughter who is graduating from high school. My husband also works a lot of hours and time with him is limited. I would like a career that involves some traveling to new places, but also involves my online health certification business, but also provides insurance benefits and retirement. I am 3 years away from being vested in my current position. It has been suggested I work toward a vice presidency position, but am concerned about the time that be required of me
25. Getting back to my creative, fun loving old self.
26. Become fit and lean. Do work that I love and that matters to me (preferably teach literacy) and to work in an environment that I enjoy being in--a private office with windows. To work with truly good people.
27. 1.) Manifest great new relationship that will lead to marriage. 2.) Achieve fantastic Trainer/Educator full time position in public speaking, leadership coaching and/or technical training for established company I can learn from. 3.) Take an exotic 2 week vacation to Turkey with friends.
28. I am in the beginning of a joyful relationship with my boyfriend and I would be THRILLED if it justs keeps getting better and better (as it has been for these last few months). I would also love to buy a house in a neighborhood/area I LOVE.
29. That I would feel satisfied with my relationship, or know what I should do to improve it. That I would better know how to look inside for my fulfillment.
30. -decision about grad school -smaller, easier to manage house -pay off credit card debt
31. I'd like to own a thriving business and the changes would need to be finding the passion to pursue the business no matter what it takes.
32. Find my path of fulfillment, joy, and peace on this journey.
33. I would love to get a job that makes a difference in people's lives that actually pays the bills.
34. That's a hard one. I guess I need to do more dreaming.
35. More money, confidence, power
36. To see my small business become wildly successful
37. My goal is to be full of energy, yet calm and confident. I want to have enough energy to meet my goals, such as making well over six figures, getting super healthy, and taking care of our new baby.
38. Healthier lifestyle and getting out of debt
39. The job I've been waiting for and the partner I crave!
40. Publish a book; get a full time tenured university teaching position; and/or my business takes off
41. My two autistic sons would recover or make significant progress with their unique issues.
42. Owning a home of my own.
43. Clear out the non-essentials in my life so that I have the freedom to create a structure for myself and have the freedom to be spontaneous.
44. To know what i want and go for it
45. Having a career/business that fit my personality and my passions
46. Be financially secure and travel
47. Find a direction and purpose for my work life.
48. Create a career that would allow me to work from home, financially support my family, leave me with enough energy for family/friend time, and allow me to pursue some other interests that aren't money-makers. I'd like to be in a helping/service profession and not selling something.
49. Get organized so I wouldn't feel so overwhelmed all the time
50. Work in a smaller company with more professional people in a more defined/mature dept/company
51. Getting out of debt and achieving some life balance
52. Career change
53. Get a new job in a fabulous location
54. Need to improve income which has been decreasing in part because of economic condition
55. Marriage.
56. Attract my ideal mate
57. More JOY in my marriage
58. Lose weight
59. Het healthy
60. To find my life partner
61. Figuring out what I want to be when I grow up and getting a clean bill of health.
62. Becoming debt free, buying my first home, making more money, getting a handle on time management, becoming more organized, looking better (being able to afford to pamper myself, buy nice clothes, getting my hair and nails done professionally)
63. Having my ideal career and keeping the balance I currently have...improvements =home and income. Already working on home improvements and decluttering and researching new work options. My current income is temporary and I want/need more. I will focus more on the career after I get my home minimized of items and updated.
64. Finding the love of my life.
65. If I met a guy and was in a solid, loving relationship.
66. Hit a financial jackpot so that we can comfortably buy a lovely house!
67. My children finding life partners. More grandchildren. Getting out of debt forever. Securing financial stability for the future. Opportunity to travel.
68. job more in line with my spirit, identifying what that career track would be and then landing the job
69. Extended travel in foreign countries; I did it when I was 22, put off going back to school for another degree for a year as I thought my education was more important than schooling.
70. That my business would really take off and generate enough money to live on.
71. Weight loss and trying to find a new career path
72. A fabulous new role that uniquely fits me and the things I value and desire (at the next level of the organization, responsibility, leadership support, incredible manager, highly valued subject area, an office rather than a cube, more money, great teammates, clarity of objective, etc.)
73. Marriage/Engagement Successful new business Money in the bank A new real estate investment Successful family relationships with planned get togethers
74. I would like to make the Yosemite quilt I promised my father years ago. I've got the fabric, but haven't started the quilt yet. Want it to be perfect. Afraid that it won't be, so won't start it. I know that, but still won't start it.
75. To visit and experience 3 of my 7 Natural Wonders of the World.
76. Peace, regardless of circumstances.
77. I would like to retire from my current job with enough financial security to pursue my next calling at my own personal pace, to include 'trying' out different options before committing.
78. I would be thrilled if my business was filled with coaches like you. I have had a Virtual Assistant business for several years, and I am now focusing on a more defined target market. I want to learn what services business coaches are looking for from a VA and how to penetrate that market.
79. Locating a management position in the elder living industry. I think I want to help self sufficient over 65 individuals manage their money, help them understand medicare, support their personal lives and still feel self- sufficient.
80. More money.
81. landing my perfect career that is filled with passion and purpose
82. Global warming averted; children happy and self supporting, engaged, contributing; feeling of joy or being thrilled
83. Fix credit and buy condo
84. Growth of my new consulting business
85. I want to get very clear about what I really want, most specifically around career/work. I want to feel excited about what I'm doing.
86. Find a new career where my talents and creativity are used and that is financially stable with benefits and retirement...as good as that can be right now:(
87. Being organized and getting rid of junk.
88. Selling my TV pilot which would lead to studios looking at my other projects.
89. More of what i already have!
90. Discovering the job, mate and location that provide me with life balance and totally fills my life with passion and feeds my spirit
91. I would love to find out what I want to do in life, what I want to be, what will make ME happy and then put it into action.
92. A little more stability in finances, relationships and living situations . For the past four years nothing has been steady and constant.
93. To have transitioned from my current job to earning income from my business that is greater than that from my job.
94. Finish writing a book and actually submit it.
95. Meet someone, fall in love and have a healthy relationship.
96. Get out of debt and New job .
97. improve the quality of my life/stuck in a rut .
98. Look my absolute best even though I am older now. Not totally sure where to start.
99. My own coaching Biz
100. I would love to find my ideal job - one that doesn't involve toxic people who drain me on a daily basis.
TIP: Getting what you want begins with KNOWING what you want. Clarity is powerful.